disclaimer: This post contains affiliate links

Valentine's Day Gift Guide for

HER
It's the season of  LOVE!  Valentine's  Day will soon be upon us.   Whether your Valentine is your significant other or your bestie, Valentine's Day is the perfect time to show them how much you care.    My Valentine's Day Gift Guide for HER has items that will melt her heart and she will be sure to fall in love with this Valentine's Day.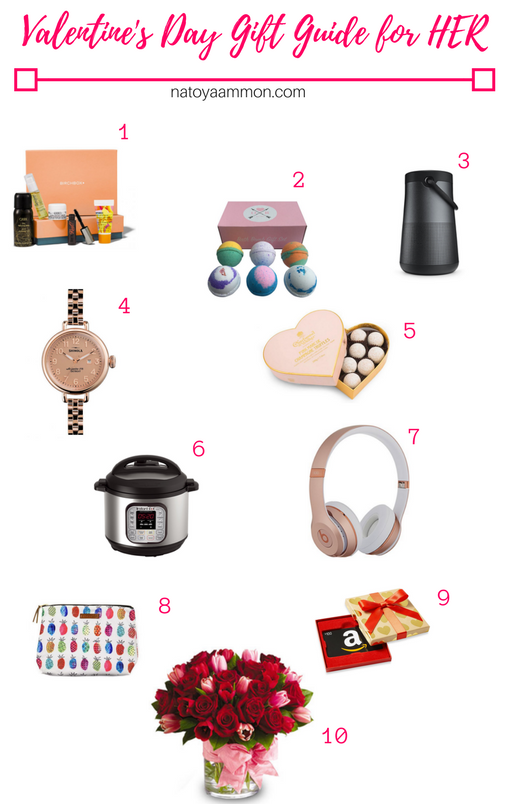 1.  Birch Box monthly Beauty/Makeup Box 
Delivered right to her front door she'll sample all the latest trending makeup and beauty products every month!

2.  Oliver rocket Scented Organic Bath Bomb Gift Set 
Give her ME time with these fizzy and soothing scents that will give her a calm and zen like bath experience.
3.  Bose Soundlink Speaker 
This portable speaker will allow her to play her favorite tunes anywhere in the house in true 360 degree style.
4.  Shinola "Birdy" Rose Gold Bracelet Watch  
Can't go wrong with Rose gold, this trending watch looks great on every wrist.
5.  Pink Champagne Truffles 
This beautiful heart shaped box is hiding decadant pink champagne truffles that she will be eating all day long.
6.  Instant Pot 
This 7-in-1 multi use programmable  8 Quart 1200W pressure cooker will please any cook and lighten her time in the kitchen.
7.  Beats Solo3 Wireless On-Ear Headphones – Rose Gold  
Does she need to keep the music to herself?  Beats wireless headphones give her the freedom to dance around anywhere in the house without being restricted so she can listen to the music "she" likes…while doing whatever she wants.
8.  Fruit Punch Clutch Bag  
Who doesn't like pineapples and this colorful clutch will for sure turn heads.
9.  Amazon Gift Card 
When in doubt and you can't think of something to buy, get her a gift card so she can buy what she actually wants from Amazon ranging from $25-$2000 amounts.
10.  Flowers  If your a traditionalist you can always go with flowers.  Flowers should be a part of your gift offering anyways, so get your lucky lady a nice bouquets of flowers.
Give her something she will really want and can use from Fizzy Bath Bombs to Instant Pots to Rose Gold Watches.   My list has more than a few things that will please your special sweetheart for Valentine's Day.

If your looking for that special gift for your bow this Valentine's Day check out my Guide for HIM here

Men if your also looking for perfume to add to that special gift for your sweetheart this Valentine's Day check out my Perfume Guide for HER here

What are you giving your sweetheart this Valentine's Day?  Tell me in the comments below.   
Happy Shopping!
xoxo
Subscribe for Updates!!
I'll send you an email everytime I post something NEW!