Canada is turning 150 years old on July 1st.  So my mom and I are going to Canada's capital city Ottawa to celebrate a weekend of fun, food and events!!  Girls road trip!!

#Canada150 #Canada  #My Ottawa
If you missed the color I'm gonna give Canada a BIG RED KISS with then check out my Oh Canada Series – RED Lip Look post here.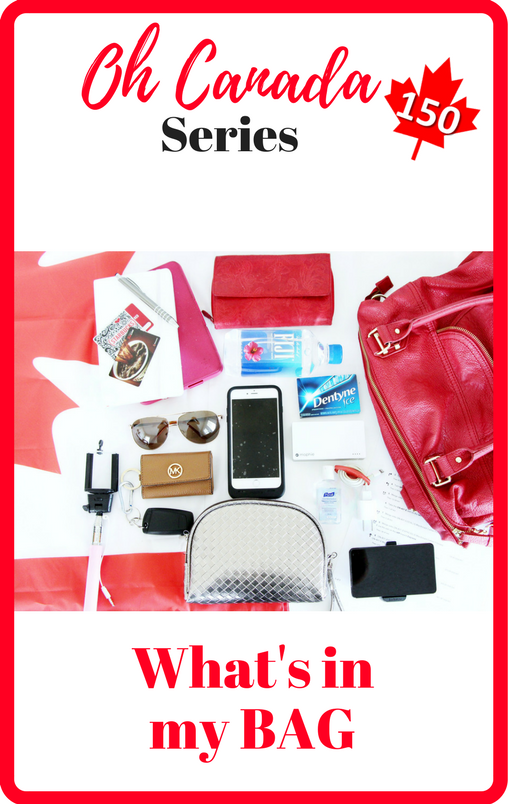 So What's in my Bag for Ottawa?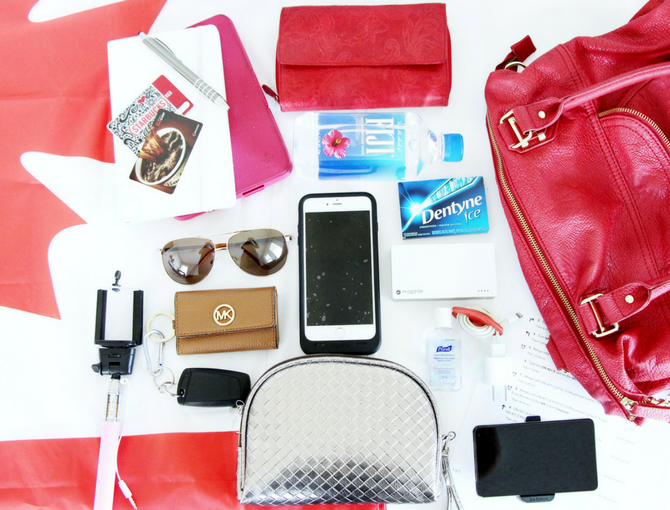 In a clockwise direction
Tim Hortons / Starbucks card or app
Ah ya…very important eh!!  Where would I be without COFFEE??  Still sleeping probably. LOL  I definitely need my daily dose of coffee or caramel macchiatto.  So it's very important to have a topped up Timmy's and Starbucks card or app. I prefer the apps as it just makes everything really easy and convenient.  Btw, your not really Canadian if you don't do a daily run to Timmy's;)

Notebook
I try to always carry a note book and pen with me so that when that bright idea comes around or inspiration strikes because my brain is always going, I am prepared and ready to jot it down.  I also use my iPhone Notes app too.
iPad
I use my iPad for reading books, PDFs, playing games etc.   Road trips usually comes with a lot of down time and this is the best time to get some reading done.
Wallet
Well this is self explanatory.  No money no fun!  I make sure that my travel wallet has a change purse with zipper, lots of slots for credit cards and wide slots for money so I can see how much I have left!
Fuji Water
Fuji water is my fav spring water. I love it for the taste and it just seems purer than the others. Staying hydrated is key especially when you'll  be out and about all day.  I always try to carry water with me where ever I go to stay hydrated.
Gum
Always have my Dentyne Ice gum in my purse for those moments when you need to have fresh breath. Peppermint is my favorite flavor. Can't go wrong with fresh minty breath.
iPhone, Morphie Battery case/Powers Station and iPhone charger
Can't leave home without my iPhone,  extra battery chargers and  my charger.  We all know that iPhones go through battery life very quickly, that is I come prepared with my Morphie battery case. Not only does it protect my phone but it also acts as a backup battery supply for when my phone is low on battery.  I also have my Morphie Power Station external charger which is great when you are going to be in places that have limited power sources.  I hate being that girl that is waiting in a long line of people just to use one power outlet, its so frustrating.  This way I can take a lot of pics and videos and not worry about  a dead phone battery!
Hand Sanitizer 
I am a bit of a germa-phob so I always have hand sanitizer and wipes.   Purell is the brand I use. In public places after touching doors and using public bathrooms hand sanitizer is a must!  I use the wipes for the hotel room tables, remote, counter tops etc.  Huggies  (not shown here) scented and unscented wipes are my go to because they are strong and don't leave lint pieces behind.  I always  grab a few packs when they are on sale at Shoppers Drug Mart.   Plus in a pinch these wipes are great for MUP removal.
GPS /Info/Itinerary

Lord knows I can't read a map to save my life but I CAN follow paper directions and GPS!  So we will have the Garmin GPS to navigate our travels and if that fails I have my trusty iPhone and backup paper directions.  I will input the hotel and downtown areas and I'm good to go.
Gotta also have your pertinent info like hotel address and check-in info and itinerary of things to do, places to see etc.
MUP bag
In my makeup bag I have L'Occitane Shea Butter, Hand cream,  Revlon Lip Gloss in 260 Rosy Future, Smashbox lipstick in Be Legendary (nude),  Sephora Cream Lipstick in 01 RED  w/ lip liner in 205 cherry from Annabelle, Visine, extra hair ties, Bobbi Brown Sheer Finish Pressed Powder Golden Orange 3, Benefit The Porefessional Pro Balm and advil.

Selfie Stick
A girl needs her selfie stick to get a good selfie, above the crowd pic or just some help taking a pic she wants to be in when there are only 2 of you.
Keys / Sunglasses

Keys and sun glasses and are the final items I need to hit the road.
I think I've got everything and we're off.  Ottawa here we come!!
#Canada150 #Canada #My Ottawa

See you in the next post about the trip:)  If you missed my Oh Canada Series – RED Lip Look post click here to read it  now.   And for a closer look at what is typically in my Make-up Bag click here.
xoxo
Subscribe for Updates!!
I'll send you an email everytime I post something NEW!