Father's Day is the next big day to honor one of our parents.   My daddy is the bravest, strongest most loving, supportive and inspiring man in my life.   I'm such a daddy's girl so I don't know what I would do with out him.   I love him dearly.  
If you are fortunate to have your dad in your life like I am, you are one of the lucky ones.  Make sure you show your dad how much you love and appreciate him on a regular.  It would mean the world to him.

Every year the hunt for the perfect gift for Dad is even more daunting than finding one for mom.  What do you give the guy who already has all the power tools, colognes and ties he needs?

Well if you need a little inspiration for the perfect gift for dad this Father's Day I've gathered up  10 perfect gift ideas for dad this Father's Day.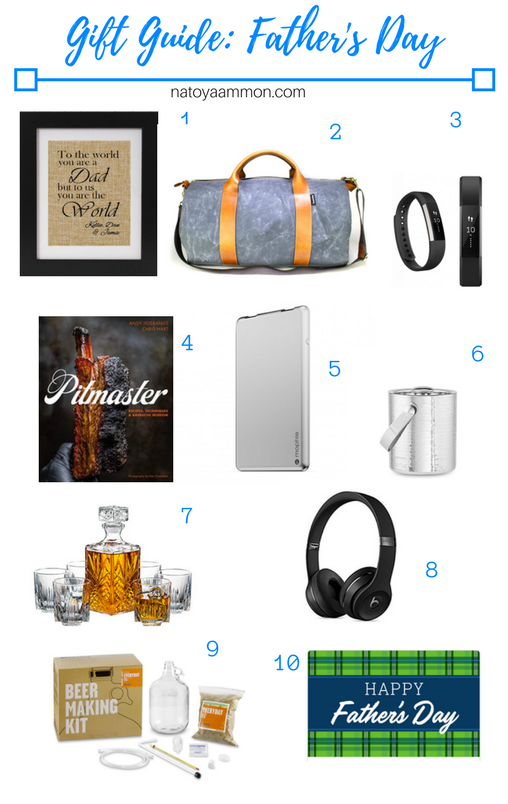 10 Father's Day Gift Ideas
1. Personalized Frame for dad for $20.95  Dad will love this personalized frame with words from the heart from his kids signed with their name on it on top of burlap. Its a nice personalized touch.

2.  Voyager Waxed Weekender Duffel – Charcoal $276  The perfect weekend get away duffel bag by Owen & Fred.  It's water proof and rewaxable outter canvas and cotton twill interior makes it a durable long lasting choice of bag and it can even hold dads laptop, headphones, smartphone passport and more. It even fits under a standard airline seat.
3.  New Fitbit Alta Fitness Tracker  $99.95  This new tracker will keep dad fit and heart healthy. When his speed and heart rate increases the devise senses the increase and will start tracking his activity level.  It also tracks sleep and can alert him to a phone call and messages. 
4.  Pitmaster: Recipes, Techniques, And Barbecue Wisdom Book  $28.16   For the true pit master BBQ is a way of life.  If your dad has a passion for the grill and wants to learn from Pitmasters Andy and Chris then this is the book for him.  This is the ultimate guide to becoming a barbecue aficionado.

5. Morphie Power station 3x $49.95     All dads know the importance of a full battery.  The Morphie Power Station 3 will help dad stay fully charged and connected…so mom can find him;)
6.  Hammer Stainless Steel Ice Bucket $39.95    This vintage inspired ice bucket is perfect all the drinks that dad will serve to all his family and friends for gatherings all year round.
7. Paksh Novelty 7-Piece Italian Crafted Glass Decanter & Whisky Glasses Set $22.95  If your dad loves good Whisky then this decanter and glass set will be perfect for him.
8. Beats Solo3 Wireless On-Ear Headphones $199   Whether dad wants to Rock Out or Bust a Move there is a Beats wireless headphones for that! Since there wireless he can enjoy them as he is mowing the lawn or washing the car. Different colors available.

9.  Beer Making Kit $39.95   If dad is a beer drinker then he will definitely enjoy this beer making kit gift.  The step by step guide will show him how to make his own artisanal beer that will taste as great as any he will find in a pub.

10.  Amazon Gift Card  When in doubt and you can't think of something to buy this year get dad a gift card so he can buy what he actually wants from $25-$2000.
There you have it, my list of 10 Father's Day Gift Ideas for your daddy.   In addition to the BBQ meal you'll grill for him on his special day,  give him something he will really want and can use this Father's Day along with your LOVE.
Tell me about your amazing dad in the comments below.   What will dad be getting this year for Father's Day? 
Happy Shopping!
xoxo
disclaimer: This post contains affiliate links
Subscribe for Updates!!
I'll send you an email everytime I post something NEW!