Ever get tired of typing all those hashtags on your social media pages?  Here's a tip to create a hashtag shortcut on your phone for easy access!
When using Instagram we are all well aware that using hashtags are an absolute MUST.  The basic process goes as follows.  You have to take a picture,  create the caption, add up to 30 "PERFECT" hashtags to the caption or comment section and- to post to Instagram.  
Now if your an Instagram novice, you'll add some hashtags that you think would be witty or that you've used before.  But if your an expert you'll do the research, come up with the perfect trending and related hashtags that fit your picture and caption perfectly.
If your in the middle of the two,  you will have a list in your notes on your phone like I do, copy and paste because your not LAZY….BUT you don't want to spend a lot of time re-typing the same hashtags all the time. Let's face it remembering all those hashtags is crazy time consuming!!
So here's a tip that will save you  time and have all your hashtags at your finger tips,  all you will have to remember is  the shortcut trigger word!  This is an iphone shortcut….sorry android peeps.
Here are the written steps and picture guide below:
Open the notes app on your phone and type out the group of hashtags you want to use.

Copy all of the text.

Open the Settings app, go to General > Keyboard > Text Replacement > "+"

In the "Phrases,"area paste your hashtags (i.e. #bloggers #beautytips #thatsdarling).  In the "Shortcut" area name your shortcut to a trigger word that you will remember (i.e. bty) and save it.

Open Instagram type your caption and use your trigger shortcut word.

Once you press enter your list of hashtags will appear.

Post on Instagram.
I created a tip sheet with all of the steps that you can download, just click the button below.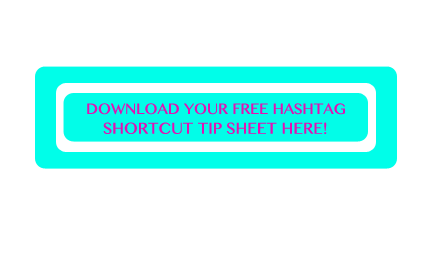 See below for pictures guide.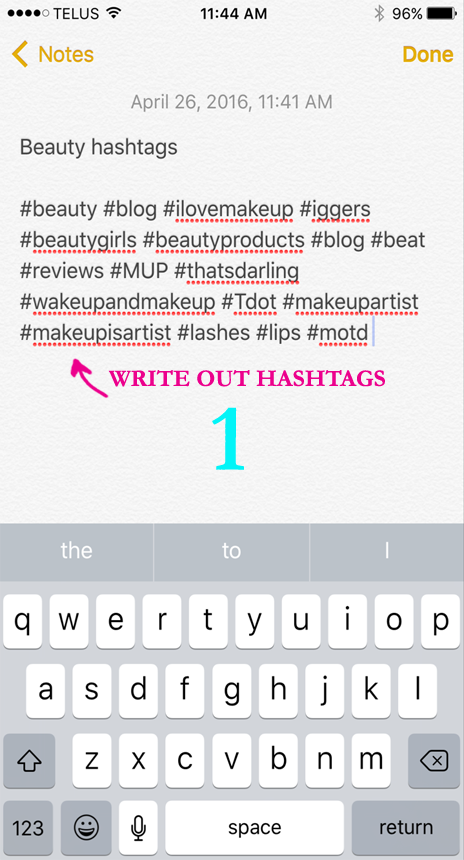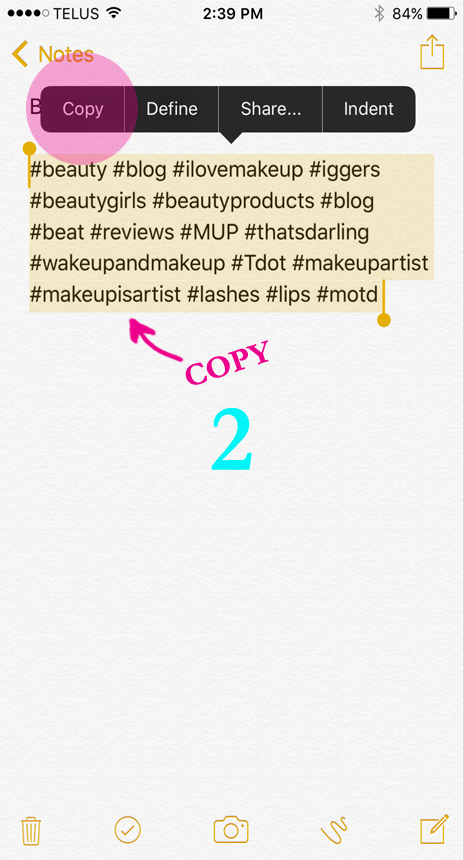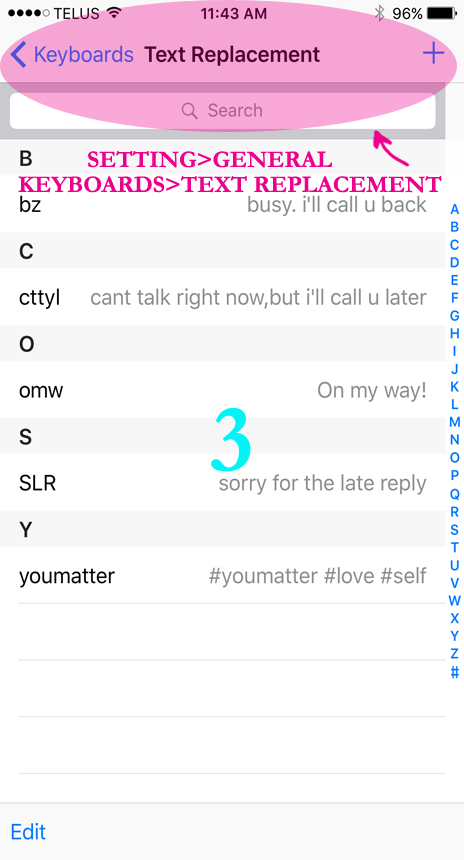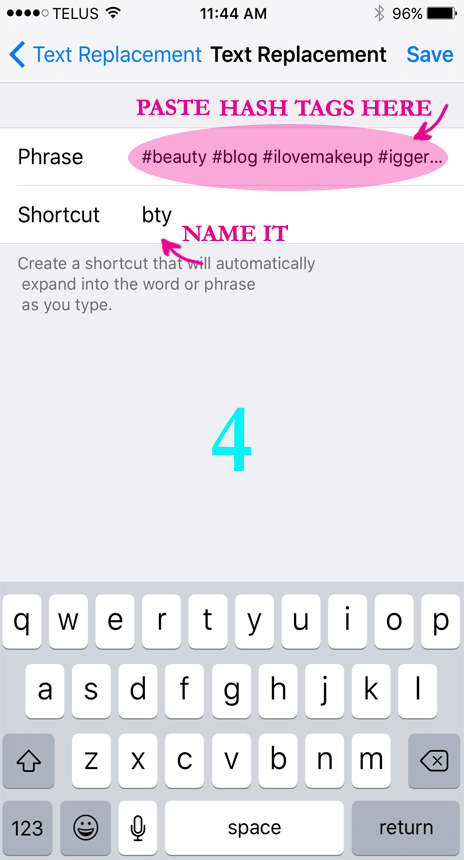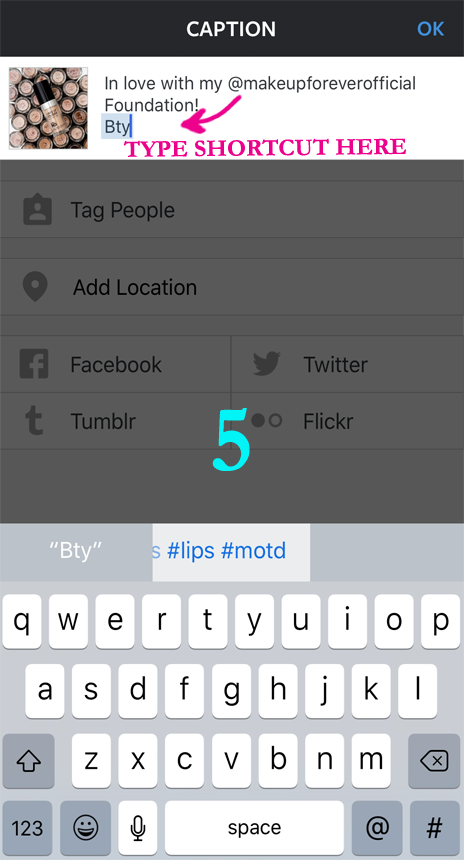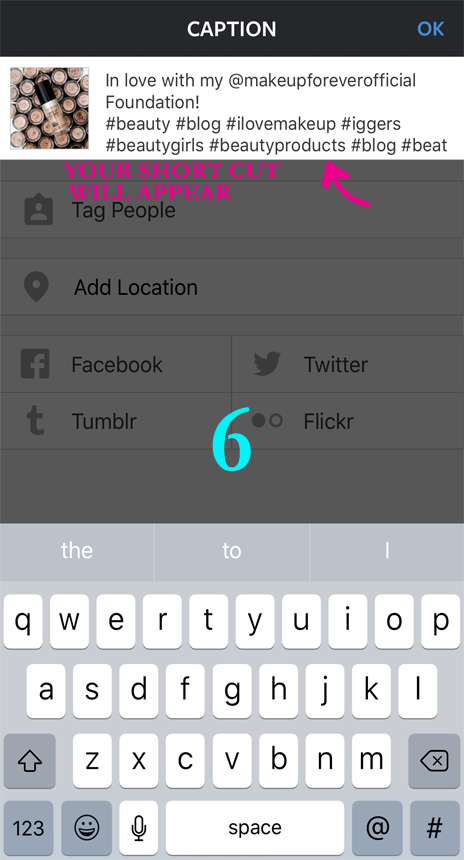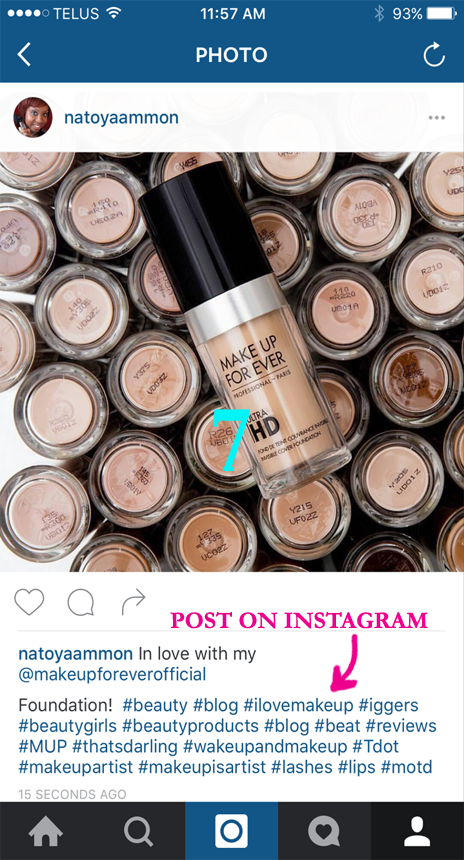 Now moving forward you can use your list of hashtag shortcuts to insert into an Instagram caption or comments or on any social media platform for that matter.  Just type your shortcut trigger word (eg. bty) and your iPhone will replace the shortcut and automatically populate your hashtags! Boom done and done!!  All you have to remember is one magic shortcut word!  Easy Peesy! 
I'll take 5 shortcuts any day over remembering  30 x 5 = 150 different hashtags for different posts!  Saves me time and I can save my memory for the other 50 thousands things I have to remember in a day. 
If you post a variety of different types of  pictures let's say for beauty, recipes, blog, your dog etc,  you might want to divide your hashtags into groups  and create separate shortcuts for each.  Just name your shortcuts accordingly so that they're easy to remember!  
Don't forget to download your tip sheet with all of the steps so you can have those short cuts handy!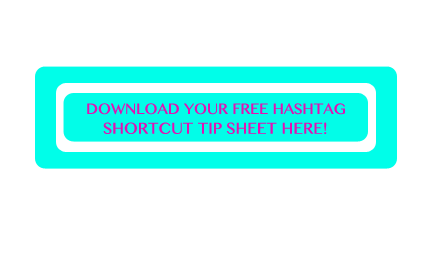 Do you have a group of hashtags that you use when posting to Instagram? Do you have different ones for different types of pictures or subjects?  Share your list below!
If you try this hashtag shortcut let me know how it works for you!!
Stay Fab,
Subscribe for Updates!!
I'll send you an email everytime I post something NEW!