It's a New Year and for sure you all have goals and resolutions that you want to implement for a successful 2018.  What if you could change the way this year looked for you?   Well I have 4 tips  that you can do right now to have your best year yet!!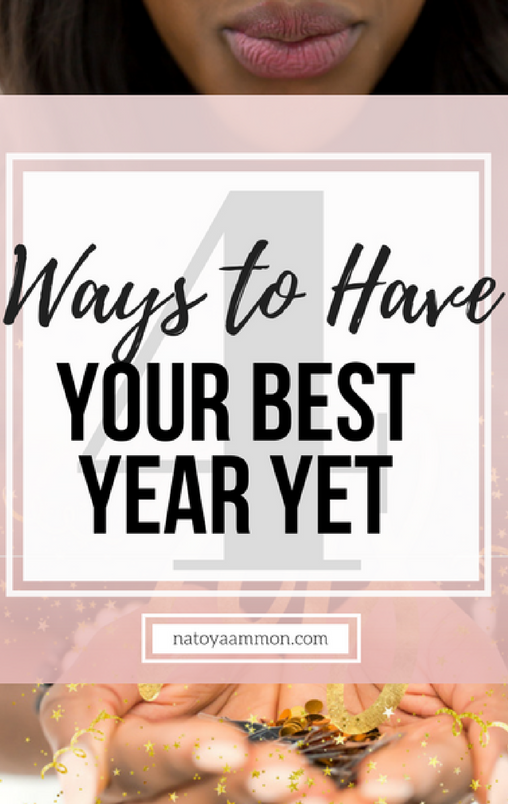 Commit to becoming a decision maker.
The #1 thing that holds people back is the word SHOULD.  I should lose weight, start my business, start my YouTube channel, start a blog, take a vacation etc, etc.
Stop the SHOULDS!!  WE second guess ourselves way too often.   We let all of our fears , self-doubt and excuses get in the way and this my friend stops us from doing the things that can ultimately help us create our best life.
99% of the first initial thoughts you have in your head about decisions you want to make are the right decisions.  The thoughts that you are dismissing and ignoring are your intuition guiding you.  Make it a habit this year  to listen to your intuition more often.  It is something you have to learn to do because it doesn't come easily or naturally.  It's a learnt behavior.
In 2018 you SHOULD commit to becoming a decision maker and take action!  Act on those initial thoughts and stop letting fear, self-doubt and excuses get in the way of making decision that will lead to a better life.
A great book to read is The 5 Second Rule by Mel Robbins.  Mel talks about how to get over your hesitations and fears with the 5 second rule to making decisions.
"we will always act in accordance to who we believe we are not what we think we should do"
Commit 
People who are doing all the things you admire do them because the goals they set for themselves are the priorities in their life and they are committed to achieving them.  They are not better than you are,  they just committed to their goals and set a high standard for themselves to accomplish their goals no matter what.
Sometimes, are standards need to be a bit higher and we need to place more value and priority on the things we want to achieve.  Raise your standards on all the things that are a priority in your life.  You should have higher standards for yourself.   What is important to you?  What do you want to accomplish this year?   Make a list of your goals.   Break your goals down into smaller doable pieces and commit to taking action daily.  Commit to making these actions a priority everyday!
Focus On Your Relationships
The things you want to get done this year will be as a result of the people around you.  People are important to your success.  No one can do it all alone.
Evaluate your current relationships and distance yourself from the ones that no longer aid in your growth.
Breakout of your comfort zone and revive old relationships that are valuable. Strengthen your relationships with those around you by networking, building new relationships on and offline that help build you up and propel you forward along your journey.
Change your Prespective.
Make an effort to stop focusing on what's going wrong in your life, your lack and what you don't have or can't do.   Be grateful for what you do have.  Focus on gratitude and become solution oriented.  No matter where you are in your life be grateful.  You are where your meant to be believe that.  Practice gratitude everyday from the moment you wake up, focus on being thankful.   Appreciate the journey as much as the end goal because the journey to the end goal is way more fun.
"Everything is figureoutable" Marie Forleo
If there is something you want to do and don't know how to do it.  Don't get discouraged find a solution.  YouTube it, ask a friend, google it, for heaven sake just try.  Stop focusing on the challenges.  Sometimes simply taking the first step of trying, alleviates fears and then we see that the thing we thought was so hard and scary wasn't so bad if we just took the first step and broke down the big scary thing into manageable pieces.
Both of these things will change your perspective.
Over to you, have these tips helped you?  Which ones will you implement for the New Year?   Let me know in the comments below. 

xoxo
Subscribe for Updates!!
I'll send you an email everytime I post something NEW!