Mom's special day is coming up pretty soon.   My mom is one of the most loving, supportive and inspiring woman in my life and I love her dearly.  It's at this time of year and her birthday that I look forward to spoiling her and showering her with love and gifts to show her how much she means to me. 
Every year the hunt for the perfect Mother's Day gift can be daunting if you don't have a clue on what to get mom.

Well I've got you covered with a list of 11 Mother's Day Gift Ideas that will be perfect for mom on her day of honor and praise.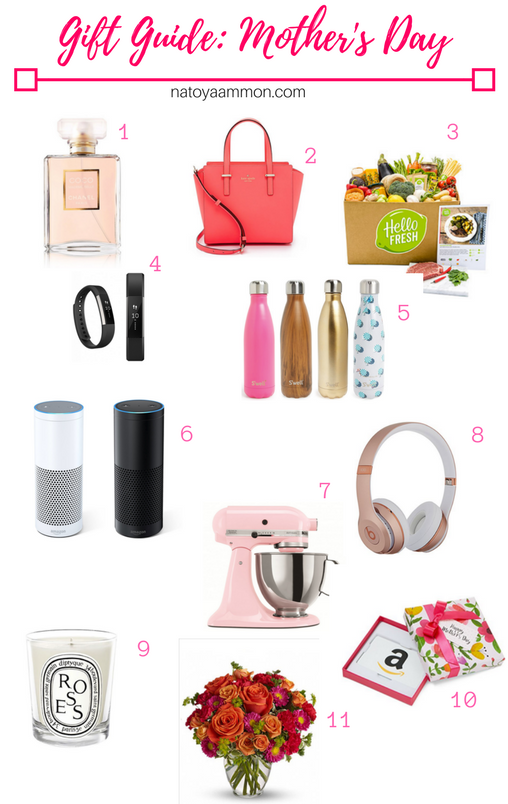 11 Mother's Day Gift Ideas
1. Coco Chanel Mademoiselle Perfume  $119.85  Mom will love the notes of jasmine, rose, bergamot, orange and vanilla.  Your mom will smell so good and luxurious you'll want to keep hugging her just to smell the scent.
2.  kate spade New York Cedar Street Small Hayden Top Handle Bag $204.50  This kate spade purse comes in pink and is perfect for spring.
3.  Hello Fresh Food Subscription Box  $10.83 per meal  Help mom spend less time in the grocery store thinking about what to cook.  Not only will she be eating healthy but she will have more time to spend with you. This food box features a variety of meat, fish, produce, and grains. Mom can choose a box with dinner for 2 or 4 and decide on how many meals a week she would like 3, 4 or 5.  This box comes with pre-measured fresh ingredients and recipes.
4.  New Fitbit Alta Fitness Tracker  $99.95  This new tracker will keep mom fit and her heart healthy and she doesn't even have to tell it to start recording her activity.  When her speed and heart rate increases the devise senses the increase and will start tracking her activity level.  It also tracks her sleep and alerts her to a phone call and messages. 
5.  S'ip by S'well Vacuum Insulated Bottle  $24.99  Help mom stay hydrated  and on trend like the celebs with any of these trendy water bottles. 
6. The Amazon Echo in Black or White  $179  For the mom who needs answers to life's most burning questions there is Alexa.  Mom can ask her anything and she'll answer I promise!
7.  KitchenAid 5-Qt Stand Mixer in Pink  The Kitchen Aid mixer in a beautiful light pink and will fem up her counter top.
8. Beats Solo3 Wireless On-Ear Headphones – Rose Gold $229   Beats wireless headphones gives mom the freedom to dance around anywhere in the house without being restricted so she can listen to the music "she" likes…while doing her house work;)
9.  Diptyque Roses Scented Candle $34   These candles will have mom's home smelling like roses and who doesn't like roses. She can even use these candles for the "spa like" alone time that she will get on Mother's Day.
10.  Amazon Gift Card $50 When in doubt and you can't think of something to buy this year get mom a gift card so she can buy what she actually wants from $25-$2000.
11. Flowers  If your a traditionalist you can always go with flowers.  Flowers should be a part of your gift offering anyway so get mom a nice bouquets of flowers.
There you have it, a list of 11 Mother's Day Gift Ideas for your mama.   In addition to the meal you'll cook, the sweet treats, the cards and macaroni art you'll give Mom this year, give her something she will really want and can use this Mother's Day along with your LOVE.
Tell me about your amazing mom in the comments below.   What will she be getting this year for Mother's Day? 
Happy Shopping!
xoxo
disclaimer: This post contains affiliate links
Subscribe for Updates!!
I'll send you an email everytime I post something NEW!